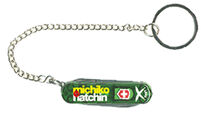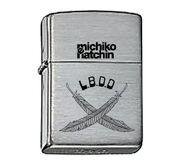 VICTORINO Swiss Army Knife
Edit
Specifications: single-sided/silk print
Size: handle > 58 mmKey
features: small Blade Knife, flat-head screwdriver (small) 3 mm,Keychain, tweezers, scissors, Light (red) (battery replacable)
Price: 4,725 (tax excluded) (about $40)Manufacturer: co., Ltd. IBM PE x
Available at: http://www.hmv.co.jp/loppi/
Specification: standard type
One side edging processing/SUMI cuttings
Size: approx. 37 W x D12×H55mm
Material: brass
Manufacturer: co., Ltd. IBM PE x
Price: 9,450 (excl. tax) (about $90)
Available at: http://www.hmv.co.jp/loppi/
Michiko to hatchin x zero Select SHOP brick, and mortar Harajuku t-shirts and underwear of "gravity" x was born the collaboration is the popular Underware brands "3 RDWARE" underwear.
Anime world view that has been faithfully reproduced 3 RDWARE print technologies to Boxer shorts.
Michiko and hatching NO.1: Michiko
Michiko and hatching NO.2: Hatchin
Michiko and hatching NO.3: MeH
Michiko and hatchingNO.4: Bike
Each including tax are 6,090 yen (about $60)
Avalible at: Zero Select SHOP "gravity"
Store website: http://www.zerogravity-web.jp
Contact: zero gravity Harajuku 03-5771-2505
Ad blocker interference detected!
Wikia is a free-to-use site that makes money from advertising. We have a modified experience for viewers using ad blockers

Wikia is not accessible if you've made further modifications. Remove the custom ad blocker rule(s) and the page will load as expected.