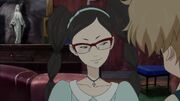 Maria Belenbauza Yamada
is the daughter of Father
Pedro Belenbauza Yamada
and
Joanna Belenbauza Yamada
,
Gabriel Belenbauza Yamada
's older sister and
Hatchin
's foster sister. In the 1st episode, she has been shown on numerous occasions bullying and harassing Hana, along with her younger brother, Gabriel and has even shown at least one time framing Hana. She and Gabriel, who is her younger brother, continually bullying Hana until she had enough of what they put her through. It wasn't until Hana reached her limit after Maria kicked her out of the house. Shortly after she did, Hana ran back inside and assaulted her out of anger for all she and her family has put her through.
Maria made a cameo in the 2nd episode and was seen asking Atsuko if she is an officer to which she replied "Yes" before Atsuko checked Maria's stomach to see if she had Hana's tattoo, which she didn't have.